About Us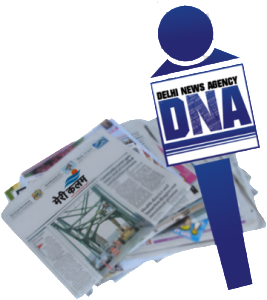 Delhi News Agency (DNA) is a Delhi based media group a brand of Dhumraketu Media Private Limited dealing in comprehensive coverage and dissemination of News in the Print, Electronic and New Media. The group has strong roots in the World of Media, the promoters of  Dhumraketu Media Private Limited have wide experience in  Electronic , Print, Media Planning ,Media PR, Broadcast Solutions ,Going back to the year 1987, when they made beginning with the Publication of a Hindi National Weekly Newspaper  Meri Kalam.  Since then, it has grown in different Media Verticals  of a News Portal  One of the Portal of the group  sarkaarnews.com news portal exclusive coverage on Govt Polices ,amended strategies and there implementation another portal titled nextnews.in exclusively deals in  news of  Media Industry , Advertising World , and the latest updates and happenings in Media World . Another wing of DNA deals AV Production  from Per to Post Production Services named  Delhi Production House into developing exclusive Documentaries ,Biographies , Ad films , Social Ads ,Jingles, and more works with motto of Vision to Visual believes in converting the vision of clients by developing them  most appropriate visuals to give the Best of services.
DNA takes pride in having a highly trained, reputed and media Professionals with long years of experience in Electronic ,Print Media, New Media  and having its office which is fully equipped ,the State-of-the art facilities. Based on these strengths, DNA offers to provide complete media solution ranging from News coverage to PR & Publicity Campaign, Audio Visual Production and hiring of equipment. DNA believes in a work culture which is Transparent   and impartial. We, at DNA cherish "Prism of truth" as a motto informing all our ventures.
DNA serves several hundred outlets across the entire media spectrum, in India and around the world. Its client list includes a range of print media, television news channels, websites, publications abroad, ministries, govt. departments and PSU's, foreign missions, corporate entities and multilateral institutions.
.
OUR MISSION

To create a nation wide & global network of media professional & news providers with deep knowledge of sectoral needs & who have a sound public & systematic interface.
We are dedicated to observe highest standards of journalistic ethics & authenticity in news gathering & dissemination. Our goal is to democratize the news space & empower  Journalism.
Our Team

Monisha Bhatia, (Managing director & Editor-in-Chief) an MBA & M.Com. combines her expertise and experience in the fields of Human Resources, Business Development Planning & Talent Development Functions with ideational & creative talent as an audio-visual expert and a prolific Freelance Journalist. For last 15 years, she has led H.R. & training operations in various corporate groups and professional education institutions of Pune, Delhi & NCR. While performing multifaceted tasks during her eventful professional career, she kept her media profile vibrant by contributing to Newspapers & News Portals. Her comfort with both English and Hindi languages combined with her oratorial skills have helped her carve out a niche for herself in the world of print and broadcast journalism.
 Devender Panwar, (Director & CEO)  Senior Print & Electronic Journalist and with Decades of experience in field reporting, editing and strategic media planning. He started his career in 1990s with Publishing of  newspaper Meri kalam and moved on to T v News Reporting with various News Channels in Delhi & NCR . He worked for  Sahara NCR,  NDTV, STAR News & Zee News .He has been very active on Web Media with running a News Portal http://www.sarkaarnews.com  , http://www.nextnews.in  armed with such a vast ,varied experience in the Media World, he founded Delhi News Agency(DNA) with an objective to provide one stop solution for Print , Electronic & New Media. He has also assisted several corporate groups & MNCs in their Govt. Outreach Programmes & also the big PR Agencies to build Political Communication Models & Image Engineering of leaders and opinion makers. The long years of experience in the media combined with his prestigious Media background has helped him maintain a wide network in Media.
V.N. Jha, Editor (Honr.) an M Phil from JNU, is a senior print and broadcast Journalist with more than two decades of experience in Hindi as well English Journalism & strategic media planning. He has been accredited with PIB (Govt. of India) &  Lok Sabha for last 10 years.
Manoj Tayal, Editor (Consulting) M K Tayal was Commissioned in the army in the days when the country was going through a transition. After completing training, Tayal was deployed in counter insurgency operations. Later, while serving in Hyderabad, he was involved in the Latur earthquake mitigation operation and riot control duties in Mumbai. He has written a book, A Little Blue, Perhaps and is a recipient of Special Service Medal by the President of India. He has been with ToI, The Citizen's Evening, The Observer of Business and Politics, The Pioneer, NIIT, The Corporate Affairs, Delhi Mid Day and Mid Day before joining The Correspondent.